Fellow Advocates,
April was a busy and exciting month here at FTLA.  With the release of PEN America's latest report showing a 28% increase in books banned in the first half of the 2022-23 school year, we've rallied to push back harder than ever with results to prove it.  Here's a look at some of this past month's highlights.  
Despite being a tiny minority, vocal and determined book banners backed by Big Money are nevertheless drawing headlines and – as Jim Hightower rightly claims in his interview with reps from the ALA and PEN America – attacking "a problem that doesn't exist."  As we all know, the real problem is book banning, which not only leeches vital resources, often already scarce in many communities, from libraries, their patrons, and underpaid staff, but undermines the bedrock of our democracy.  We're more than happy to get on our soapbox and talk about all the ways book banning harms kids, communities, and everything we stand for.
Which is why we're taking action…and winning.  Thanks to generous donations from our growing coalition of Advocates, April marked the launch of our first campaign endorsement that saw Missy Zombor win for Milwaukee Public School board.  We're extremely proud of the ad campaign we ran that was seen by tens of thousands of voters.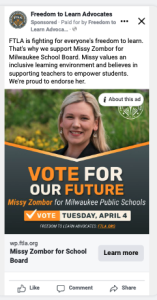 School boards are often the real battlegrounds in the book banning fight and with Missy representing the vast majority (a 2022 poll found that over 70% of parents oppose book banning) of sensible people who support access to books and diverse points of view, we couldn't be prouder to have endorsed Missy in a victory not just for Milwaukee but everyone who wants to stop the insanity of a book banning craze that's gone off the rails.
But we're not stopping there.  We're taking what we learned from the Milwaukee campaigns and duplicating that success.  Relying on our research and political experience we're currently working on running similar campaigns in races in several states and districts throughout the U.S.  And it's thanks to you – our supporters and donors – that we're able to accomplish these goals.  
Without your help we wouldn't have the resources to make such a crucial difference in the fight against book banning.  
There were also several high profile events in April that drew attention to the fight against book banning and raised awareness about the urgency of the problem.  Celebrities including Julia Roberts and Shonda Rhimes got involved thanks to the initiative Let America Read, organized by our close ally Campaign for Our Shared Future.  
The widely publicized campaign introduced the issue to a massive audience and saw many people get involved who may have otherwise sat on the sidelines.  And the American Library Association's anti-book banning arm Unite Against Book Bans promoted April 24th as Right to Read Day, which witnessed a huge rally of support across social media, encouraging everyone to take action.  We're currently working on our own comprehensive Resource Toolkit which will provide all our visitors and Advocates everything they need to get involved and help put an end to book banning.         
April was also a pivotal month of growth for us; we saw surges on our social media platforms and people signing up to become Advocates.  As a small organization we rely on the help of our dedicated coalition of supporters who have chosen to join the fight and our growth only proves to us what we already knew: that the overwhelming majority of people are on our side and will fight to prevent a brazen and belligerent minority from infringing on the fundamental rights we all should enjoy in a free and tolerant America.
With such an encouraging first half of the year setting the stage for future growth, we're truly inspired by so many people of all backgrounds working together with us in this thriving movement to achieve a common goal.  We look forward to the months ahead, the fresh challenges and successes, and we sincerely hope you join us.  
We cannot stress enough how important the donations we receive are in making all of our progress and success possible.  
If you care about preserving your rights and those of your family, the ability to make your own choices about what you and your children not just read but simply have access to in order to make those choices, then please consider donating here.  
We truly appreciate your generosity and we'll do everything we can to fight for your Freedom to Learn.    
Thank you from all of us here at FLTA.                   
April 2023
Freedom to Learn Advocates celebrates achievements on its first year anniversary.  
Freedom to Learn Advocates (FTLA) was created in March of 2022 to combat the alarming rise of dangerous laws and regulations that prohibit the freedom to learn and access diverse perspectives.  The voices of historically marginalized members of our society – communities of color, our friends in the LGBTQ community, and women – have all come under attack at much higher rates and we refuse to stand on the sidelines. 
We believe book banning while persecuting our educators and librarians is fundamentally Anti-American and part of a well-funded and politically motivated effort that we simply can't allow to succeed.  FTLA seeks to promote universal access to books and educational resources for all communities, regardless of race, economic status, religion, gender, orientation, or political affiliation.  
We are proud of the work accomplished thus far of building our infrastructure, creating a network of thousands of Advocates across the country, and contributing to a broad coalition of people and organizations that support our values.  With the help of our allies and Advocates we're leaning into the fight in Florida, Wisconsin, Virginia, Missouri, Michigan and Ohio. But we are not stopping there as we are planning efforts in other states and seek to support efforts wherever the fight against book banning takes us. 
As FTLA grows we will support candidates for local office who stand for our values and work to preserve our rights as a free society.  These candidates will work toward countering legislative attacks on our freedoms to read and learn, will support our growing coalition of allies, and will create a grassroots network of Advocates for their communities, schools and libraries.  We are committed to a nation where all readers are lifted and enlightened through access to books and literacy.  
We thank all you, our supporters, who have chosen to stand up and become Advocates, aligning our efforts with a growing coalition of allies and the legions of concerned citizens who have donated to help us achieve our goals.
We know that we can't do this without you and we are so grateful for your support!  
Together we can ensure books stay on the shelves where they belong and are read instead of banned.  Help us reach more communities by becoming an Advocate and donating today.
WE CAN'T LET THEM WIN
There are only two sides to this issue: you either believe in the freedom to learn freely, or you believe in banning books and restricting access to information.  
If you're like us and believe you should be able to decide for yourself or enable every parent, household, and reader access to all voices, perspectives, and books, then please become a Freedom to Learn Advocate and get involved.  Below are a few preliminary resources from partner organizations that may help stop the intolerant bigotry that's driving book banning and fueling discrimination in our libraries and schools. And as always, please get the latest news and updates by checking out our website and following us on social media!
Thank you and let's keep working together!
-Team FTLA
March 2023
Freedom to Learn Advocates (FTLA) was founded in May of 2022 with the mission of resisting dangerous and discriminatory initiatives that aim to limit access to books and information, often in the form of book banning policies that target vulnerable and marginalized voices. Our goal is universal access to books and educational resources for all communities regardless of race, economic status, religion, sexual orientation, gender identity, or political affiliation.
We chose the name ADVOCATES because the most effective way to fight back against the troubling rise of book bans across the country is for YOU to become an ADVOCATE and join a rapidly growing grassroots movement of people who believe in the Freedom to Learn. Groups trying to limit access to books and education are well-funded and well-organized and the only way to put an end to this hostile campaign against our schools and libraries is to unite as empowered citizens and make our voices heard.
As an organization created by and for real people, we care about the communities we serve and intend to provide what you need to become the best advocate for YOUR community.
In this edition of our monthly newsletter we'll highlight a few success stories that show how being an advocate can affect real change, as well as some of our partner organizations already doing critical work in communities throughout the country. Most importantly we've included resources that YOU can use to join the cause and become an effective advocate against book banning in your community!.
Advocacy Success Stories
Thanks to the incredible efforts of advocates across the country there are plenty of stories that prove just how powerful and important being an advocate against these book banning efforts can be.
For example check out these advocates in Glen Ridge, New Jersey, who successfully beat back the tide of book banning in their community:
"Books that detail the truthful experiences of others build empathy, support, and love." Over 200 people attend meeting about LGBTQ+ books at N.J. library
In Katy, Texas, students came together and proved that anyone can become an advocate and push back against book banning:
"We defended these books, which remained in the library…We saw book banning slow down, and that was really phenomenal to see."
Students taking back 'ownership'' of education
In Florida, a grassroots organization was so outraged by the oppressive book banning policies taking shape that their inspiring response drew national attention:
"We know that books can be dangerous to those in power, especially when they are in the hands of folks who are organizing to fight for liberation."
Organizers are Fighting Ron DeSanstis's Educational Bans with Free Books
Our Allies Working Overtime
As ADVOCATES we know firsthand that we can't do this alone. We're fighting against savvy conservative organizations backed by big money who promote not only unethical but unamerican ideologies. But FTLA is extremely proud to be part of a broad coalition working tirelessly to stand up to these bullies and roll back the tide of book bans.
We're honored to showcase a few of our partners doing amazing work on the ground.
Florida Freedom to Read Foundation (FFRP)
Our friends at FFRP have shown just how powerful advocacy can be. By organizing a vibrant, community-based grassroots campaign to keep power in the hands of the people to defend their schools and libraries, FFRP promotes practical, proven approaches to fighting back against book bans and censorship.
In just a few years Red Wine & Blue has grown from a few suburban women concerned with trends like book banning to a full-blown national sensation. Featured in media outlets such as USA Today and ABC News, Red Wine & Blue are rallying empowered citizens all over the country to organize and stand up for the freedom to learn.
FReadom Fighters are proving that even in Texas, which prides itself in being big and won't be outdone by banning more books than any other state, the strength of people joining together against book bans is bigger. Using social media to amplify their voices, dedicated librarians concerned with the rise of book bans decided to unite and fight back.
But How Can I Make A Difference?
As ADVOCATES we believe the most powerful way to make a difference is by rallying the over 70% of people across party lines who think book bans are not only pointless but harmful. As we spoke with our allies and researched the most effective ways to fight book banning, we quickly realized the foundation of any successful movement is access to information, which in the end is what we're defending.
At FTLA we're committed to our allies and advocates, which is why we've done some research for you, so you can focus on helping us continue to fight back against backward book bans and legislation and keep the power to choose in YOUR hands. Below you'll find some of the best resources to start making a difference today.
In response to the frightening rise in book challenges, our partners at the American Library Association formed a fantastic anti-book banning project called Unite Against Book Bans, which has put together an impressive Action Toolkit with a variety of excellent resources for people wondering how to join the fight.
One of the easiest and most powerful ways of combating book bans is to use the strength of our democracy and contact your legislators. The good news is our friends at Book Riot have made it even easier by drafting a letter for you. Let your elected officials know that you're opposed to book banning and that you'll prove it at the poles.
According to the ALA, 82-97% of book challenges go unreported. It's impossible to fight back against what we don't know. Get involved and report books that are being challenged in your own community. Speak up, speak out, make your voice heard.
As the unprecedented trend of book challenges continues to worsen, our fight is just beginning. That's why now more than ever we need your help. As a nonprofit organization we're in this because we care; we rely on the generosity of our supporters and ADVOCATES to work toward our mission of making books and information accessible to all people and the fact is we simply cannot do this without you.
If you care about keeping the right to what you and your family reads YOUR choice, having unchallenged access to educational resources, and perhaps most importantly championing the type of civil society you want to live in, please consider becoming an ADVOCATE and join our growing coalition. No contribution is too small (or too big!), and we will work nonstop until the Freedom to Learn is enjoyed by everyone.
Become an ADVOCATE today and DONATE HERE! Join the conversation and follow us on Facebook and Twitter and don't forget to visit our website for the most current updates and tools on how to fight book bans and censorship.
Thank you!
-Team FTLA